House heads rejoice! Miami Music Week is coming in fast and we're hyped for it, with a vast amount of parties coming to Miami all within one weekend. It can be hard to navigate which one is right for you, which is why I created this list to some of the best parties that should be on your House music bucket list for this coming March. Get your dance shoes on because we're about to give you the essential list to make you jack your body and that will have you swaying to House music all night long!
Kings Of House – WMC Opening Party
YES YES YES! If you're arriving in Miami before the massive rush, this party is at one of Miami's coolest venues. on the 16th-floor pool deck of the Epic Hotel in Brickell, where you'll be able to swim while listening to some of the grooviest beats on Tuesday, with an exclusive 6hr b2b set by Louie Vega & David Morales. Come and enjoy the beautiful sunset on what surely will be a beautiful Tuesday afternoon into night, it'll surely give you that sunset in Ibiza chills if you've ever had the chance to experience it.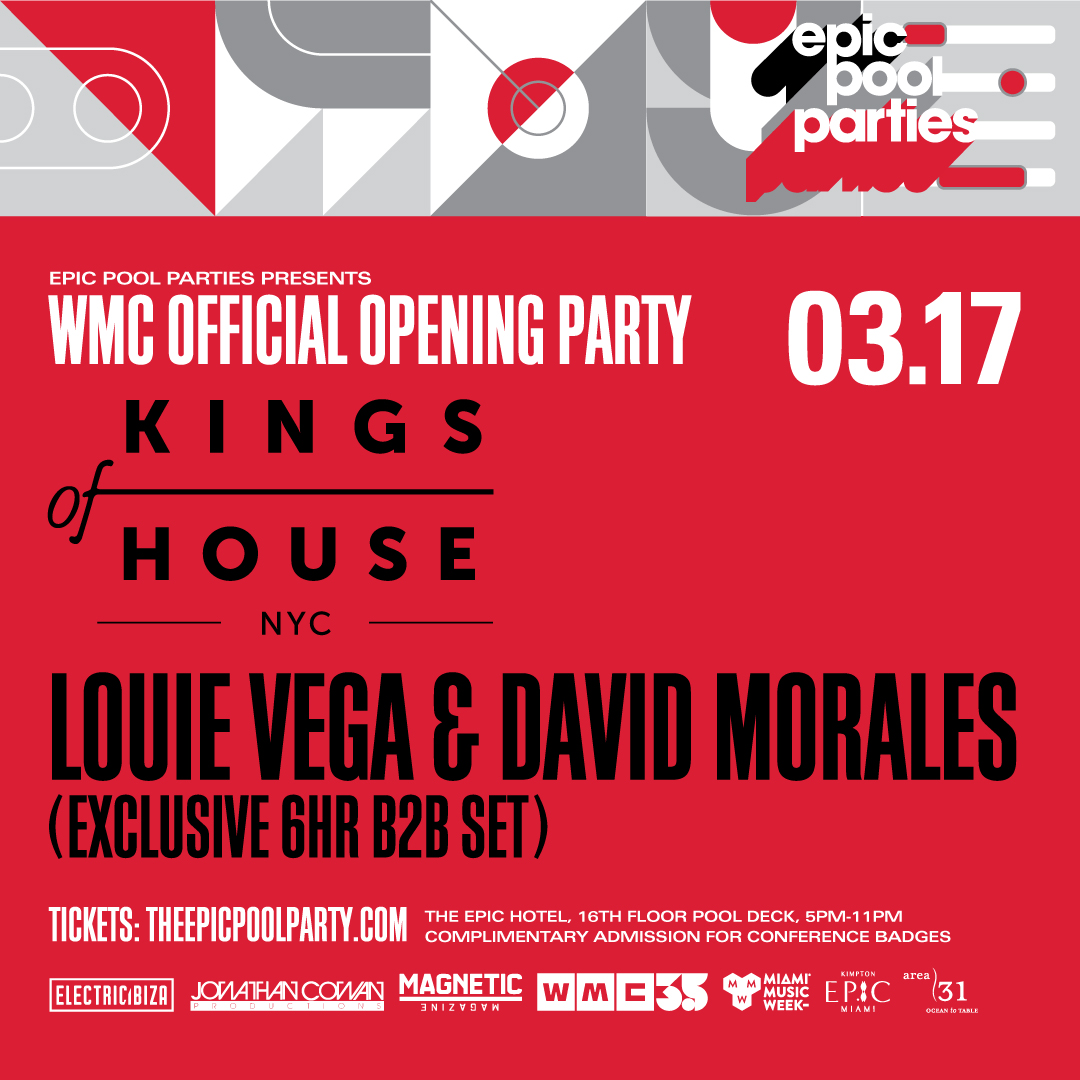 DJ MAG Miami pool party
While this isn't strictly House music, you can get your House music fixed in with acts such as Meduza, Seth Troxler and drum roll please, Duck Sauce! With special guests to be announced, you can expect more additions that will have you vibing all day long into the night. Plus with Armand Van Helden and A-Trak taking over the decks, this set will be one we'll all be talking about for a long time.
ARKADE MMW 2020
Perhaps the most unique party of MMW, filled with an arcade machine room, a high rock climbing wall, pac maze, bumpers cars, laser tag room and a BUNCH of other activities. Arkade is ready to take you by storm. With 3 rooms of music, the House music is strong with this party. With acts such as Oscar G, Felix Da Housecat, Art Department, Roger Sanchez and many more. Being hosted over two days (Wednesday-Thursday), this party is quite the venue with options of standard admission to open bar with unlimited games. Keep your eyes open for this, because so far no party compares to this one.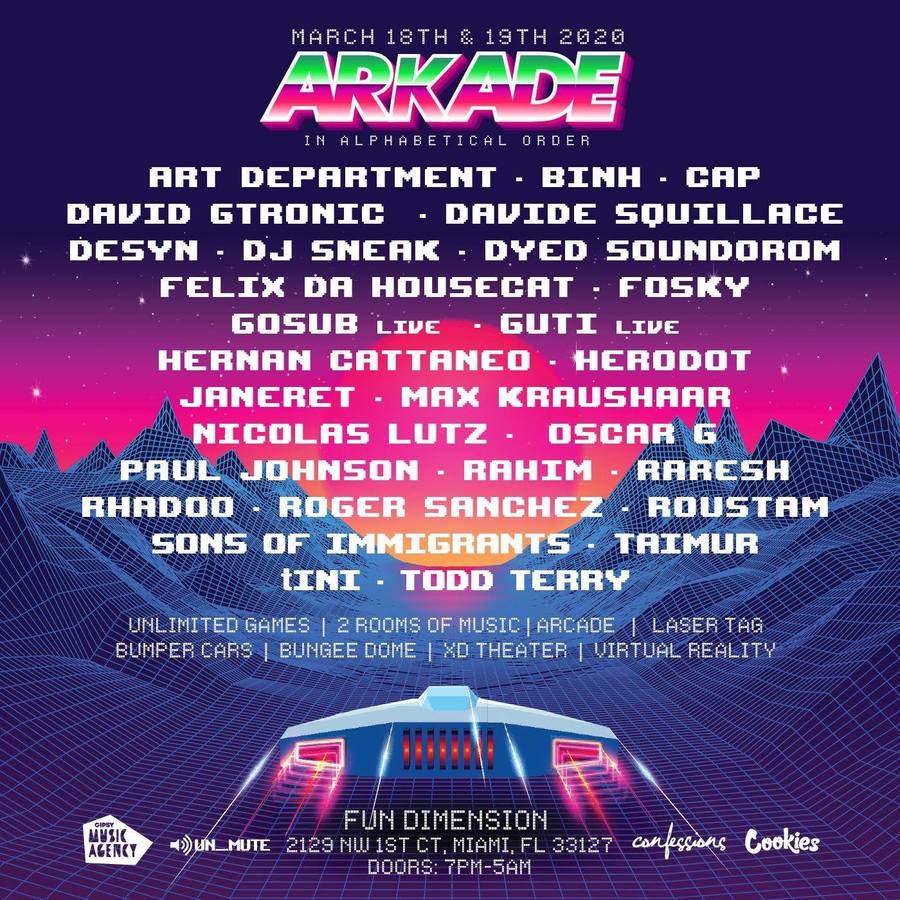 Axtone Pool Party
Being one of the first few parties announced for Miami Music Week, absence in 2019. The Axtone pool party is back in 2020 at a new venue and re-branded. Originally for fans of Progressive House, this year Axtone is for House music lovers and you can expect quite the party this year at Shore Club. The bossman himself Axwell is known for releasing massive amounts of House music in his early days, we're sure the line up will reflect those late 90s early 2000s house vibes!
HARD Miami Presents Black Book Records with Chris Lake
Taking the world by storm and being a key feature to bring Techno to the States, Chris Lake is hosting a night of House and Techno vibes. Expect a mixture of both genres for this party, as Chris Lake and his friends will have you shaking it. With sexy tunes like 'I Want You' and 'Turn Off The Lights', you'll be moving your waistline none stop during this one.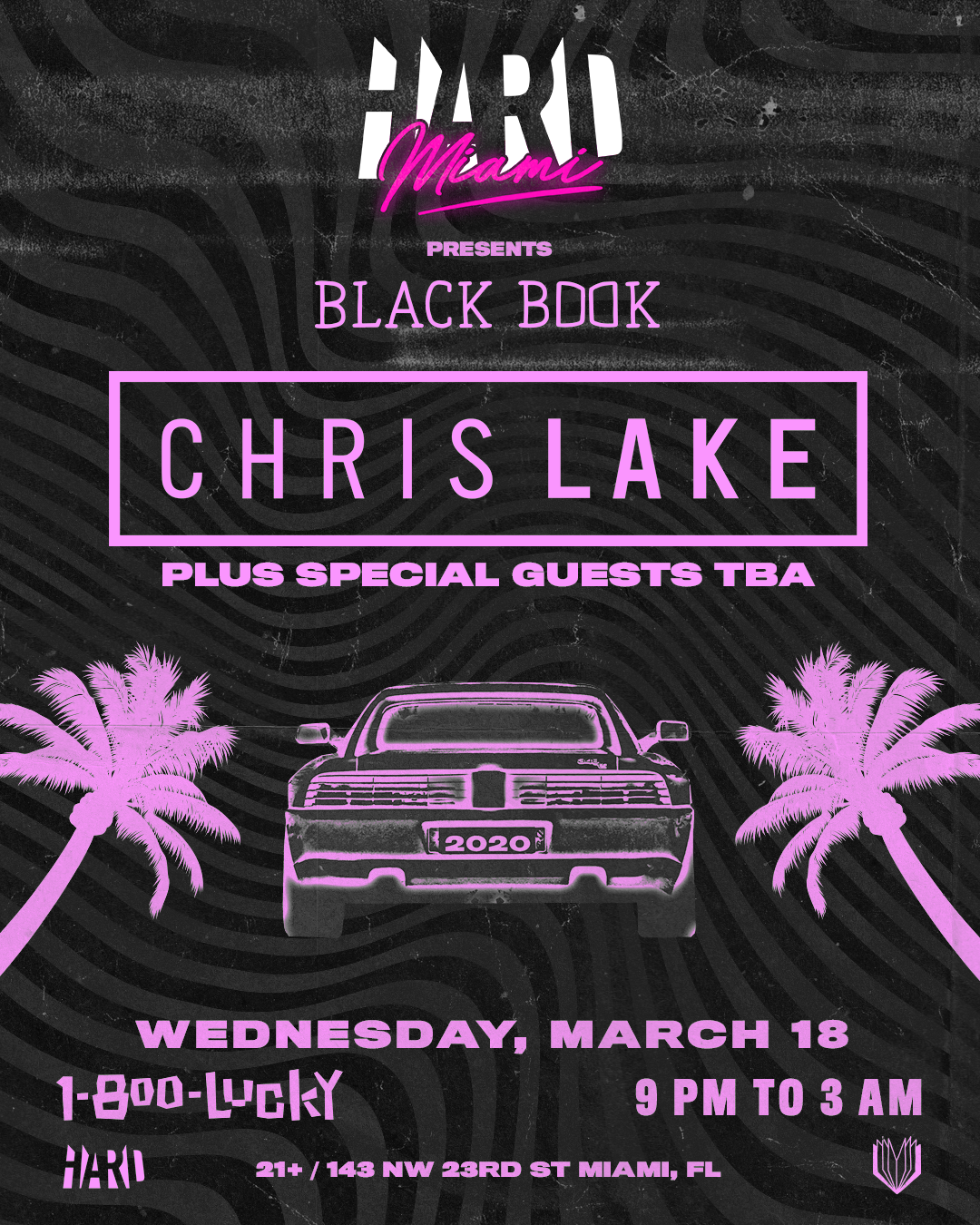 MK Area 10 Pool Party
Ready to forget the world for one night, got your homie back just like you guys were 17? MK's infamous Area 10 pool party is back and attending this party the last two years of MMW, I am beyond hyped for this one! With heavy-hitting acts such as Lee Foss, KC Lights, Leftwing: Kody and MK himself. This party is always the highlight of my MMW and being hosted at the National Hotel, the pool here will have you flexing hard on the socials. Bring your swimwear and get ready to swim or get your dance on. Trust me if it's one party that still stands out above the rest for me, this is it.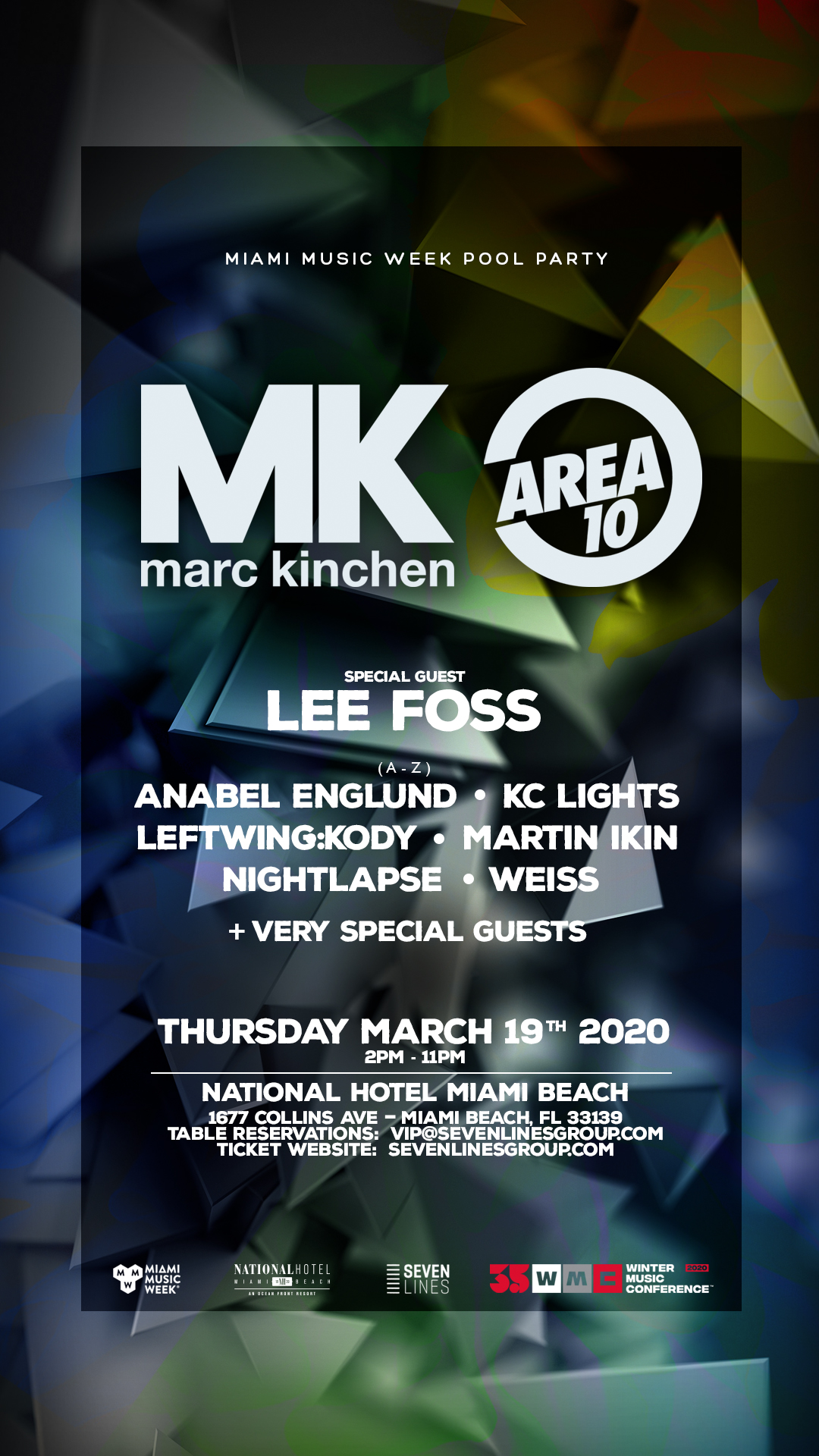 Paradise Miami Music Week 2020
Welcome to House Paradise! Jamie Jones is back and brings his touring curate "Paradise" to the famous Space nightclub in downtown Miami. This party is a marathon so brace yourself. Starting at 10 pm on Thursday, parties at Space are known to normally end at 5 pm the next day. Jamie Jones is a House legend within the scene, being one of the forefathers in my opinion of House. The boss man Mr. Jones is expected to play an extended and while the line up is not out, it'll meet your needs without a doubt.
Defected Records Pool Party
You can't think about House music and NOT think about the legendary house music label Defected! This label is known for classics such as "Diamond Life" but also pushing newer and groovier tunes such as "Lovelee Dae". You HAVE to go to this party, no excuses! With amazing acts such as Amine Edge & Dance, Ferreck Dawn, Roger Sanchez and many more. Ready for the label that truly is about #HouseMusicAllLifeLong ? Cause we sure are!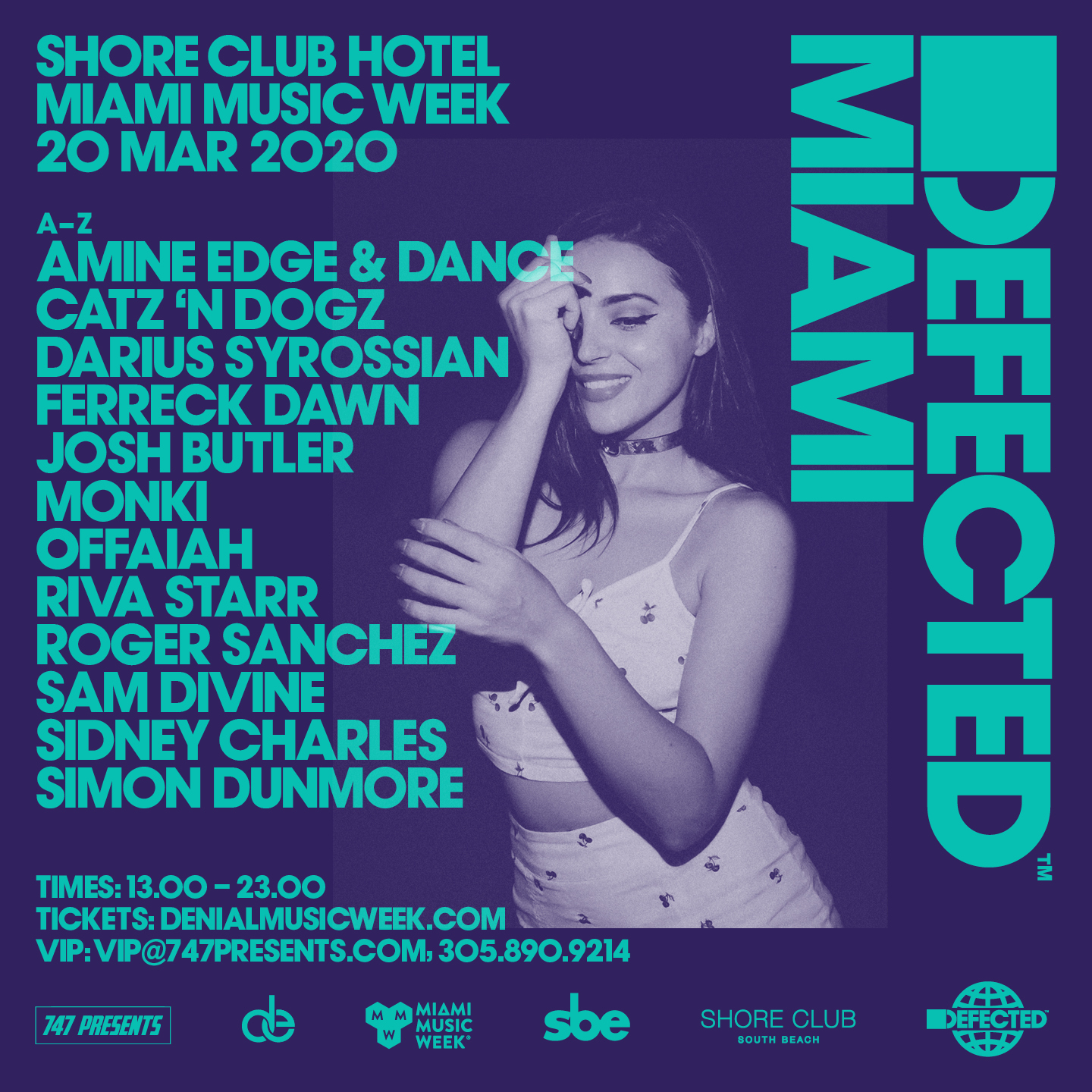 Diplo Presents Higher Ground Miami 2020
Within the last two years, Diplo's sound has evolved. While still giving us those high energy bangers with the Major Lazer project, Diplo himself has been shifting more to Techno and House as of late. Examples of this can be found in both his EDC Las Vegas and Orlando sets in 2019, pushing House music with his new sub-label of Mad Decent "Higher Ground". Expect an extended set from Diplo himself and a line up filled with fresh new upcoming talent, walk-in open-minded and walk out blown away.
Toolroom In Stereo Miami Pool Party
Miami Music Week just wouldn't be right without a proper Toolroom In Stereo pool party! It's back in 2020 Chus & Ceballos are ready to deliver another unbelievable pool party, with support from the legendary Mark Knight. True veterans in the dance music world, these House legends will take you on a JOURNEY! So come pass by and say HOLA HOLA!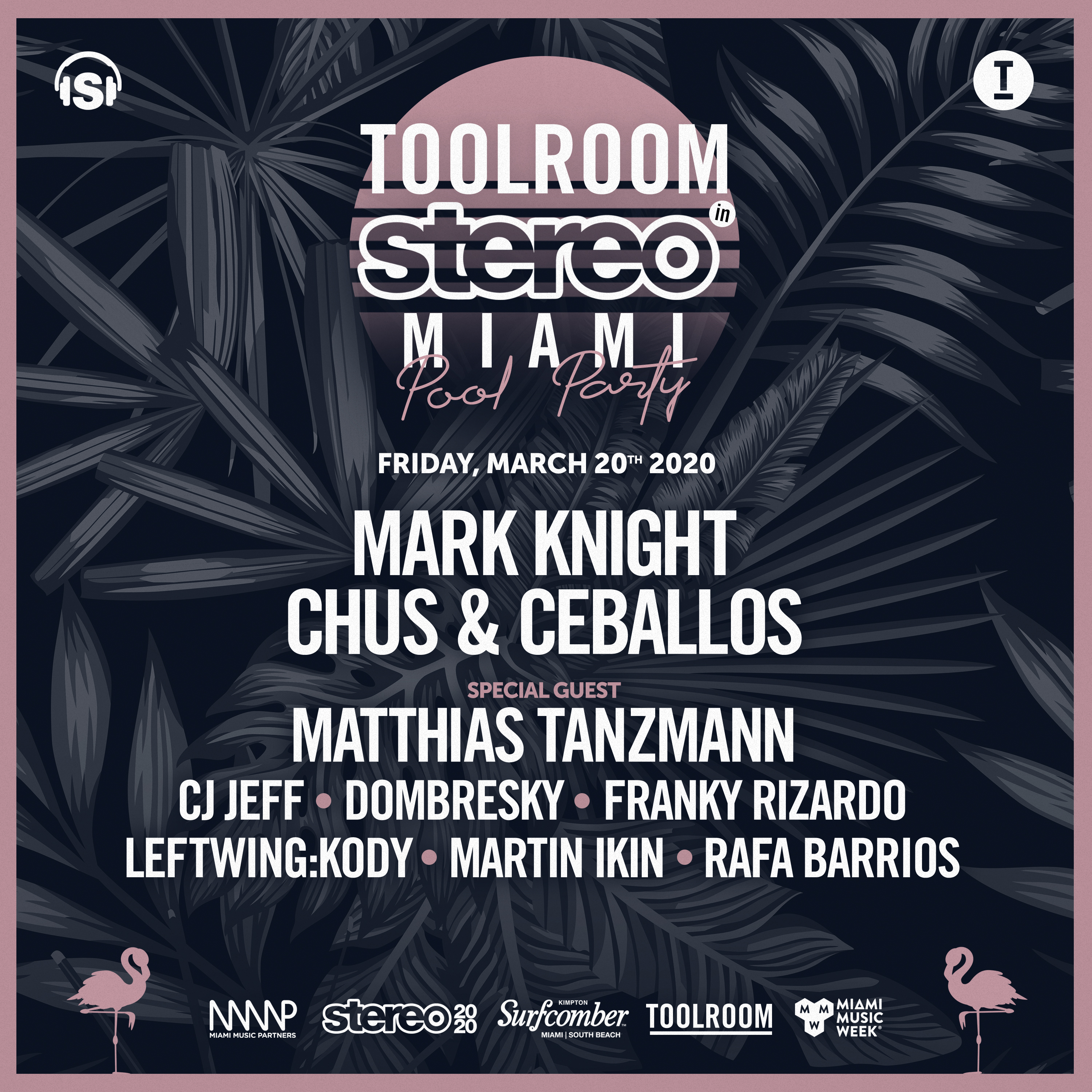 Repopulate Mars
If you're looking for rooftop vibes, this is the party you're looking for. In my opinion, this would make for a great pre-party before Ultra Music Festival. Repopulate Mars is coming back to the Kimpton Epic and the line up is pretty sick. Bring MK, Lee Foss, Latum, Huxley. Detlef and many more amazing acts. Spend half a day, a quarter of a day, or all day at this perfectly crafted rooftop pool party.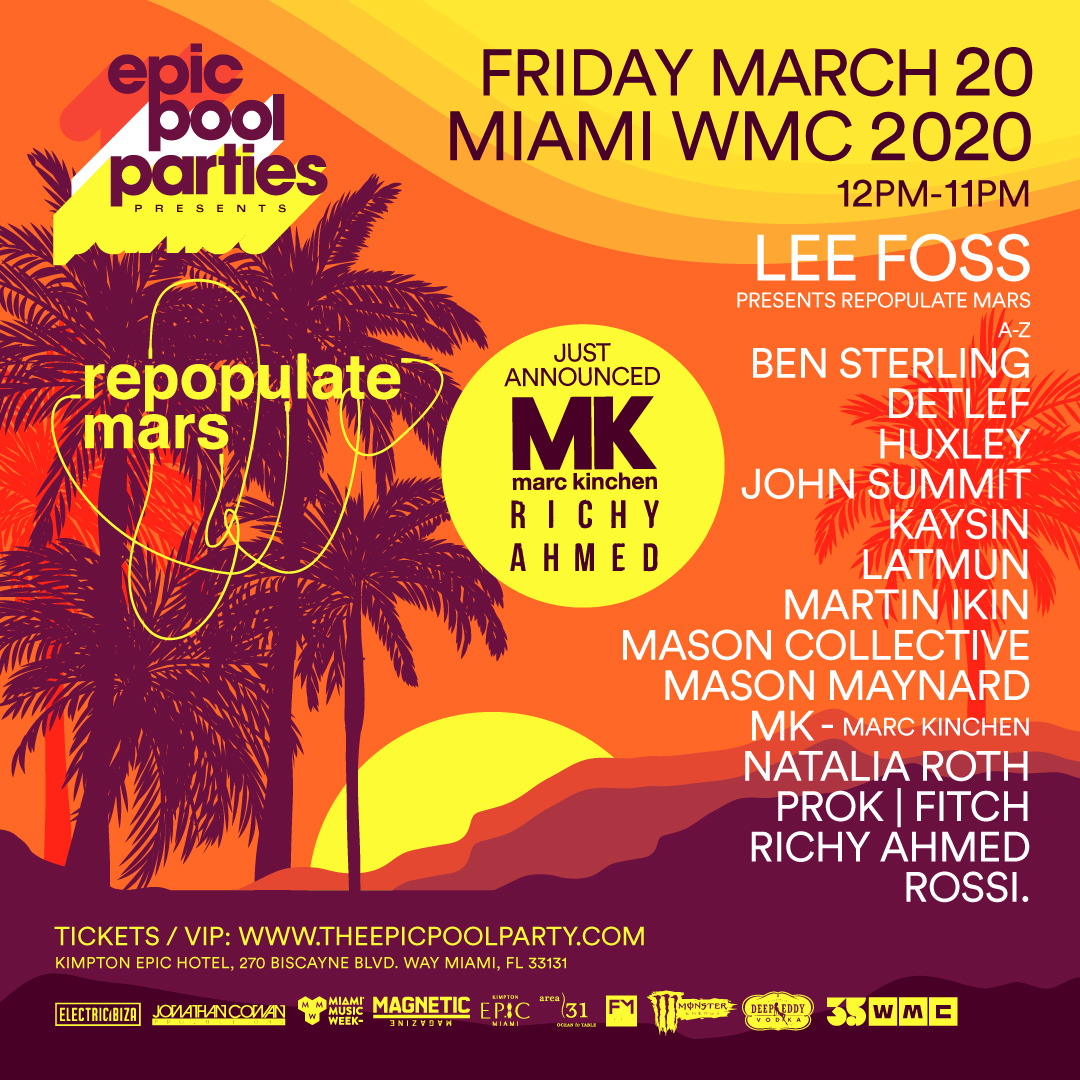 Get Lost Miami 2020 – 15th Session
This is another truly essential party to add to your list, if you don't plan on doing Ultra Music Festival then you should strongly consider this one, or even hitting both! Hosting it's 15th session at a brand new venue, the minds behind Get Lost are true professionals when it comes to party planning. Starting Saturday at 5 am, this 24-hour party will allow you to come and go as you please. Make sure your disco naps skills are ready because this party will be incredible and surely not one to be missed. If you don't believe me, the line up will speak for itself. Let the music take you on a journey, as we won't be forgetting this one anytime soon.
Elrow: Rowsattacks Miami
Miami Music Weeks NEEDS an Elrow party, right? So here you have it, hosted in a secret warehouse with two stages. If you're looking for something a bit more colorful and unique after Ultra, this is the perfect party for you. With inflatable animals, massive amounts of CO2 and confetti showers all night long. You'll be feeling those Ibiza vibes all night long, be sure to grab your early birds while you still can! With Joris Voorn, Claptone, Detlef b2b Latmun and Meduza this party is sure to be out of this world.
Green Velvet's La La Land
Insomniac is making its presence felt and bringing us Green Velvet's touring curate 'La La Land', this party has been from NYC, Ibiza and beyond. Hitting major cities worldwide La La Land is a power player when it comes to quality House music. While the line up is still up in the air, this will surely be an awesome party.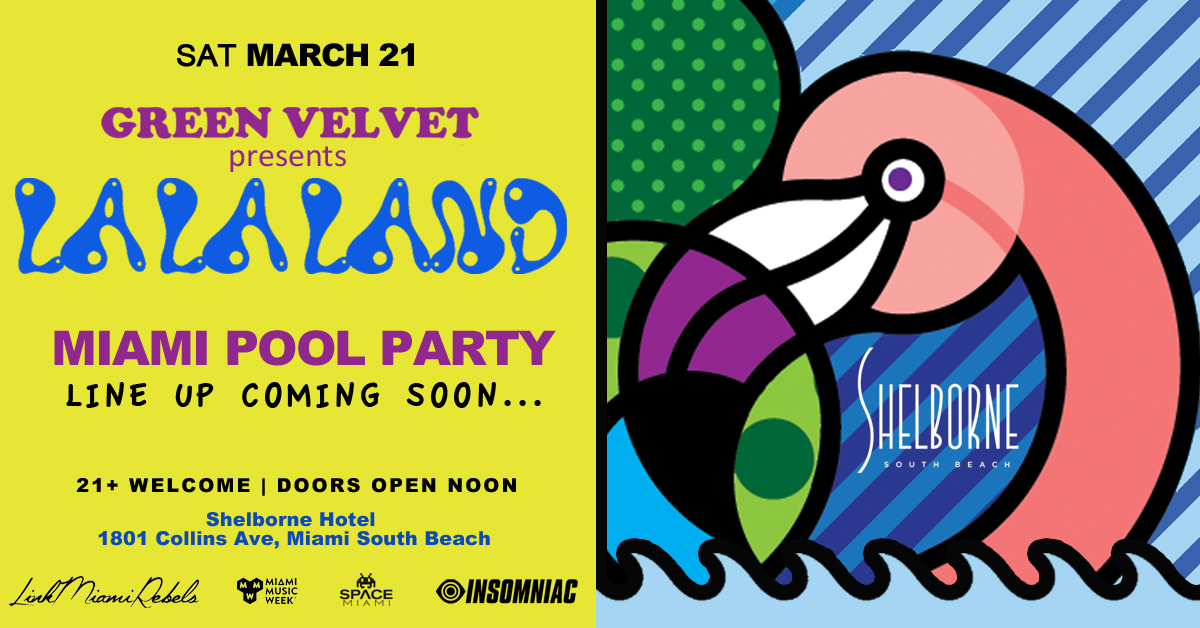 ANTS – Miami Music Week
Ibiza Infamous brand ANTS is coming back to MMW this year and with it comes a strong diverse line-up, boosting the dutch legend himself Joris Voorn, Franky Fizardo, Andrea Oliva and Ilario Alicante. Another amazing event hosted at the National Hotel, you can expect a mix of House and Techno on this one. Closing out Miami Music Week in style, this party has one of the strongest closing acts so far. I'm personally excited to see Joris Voorn close out this one, he always delivers and has never disappointed me so far.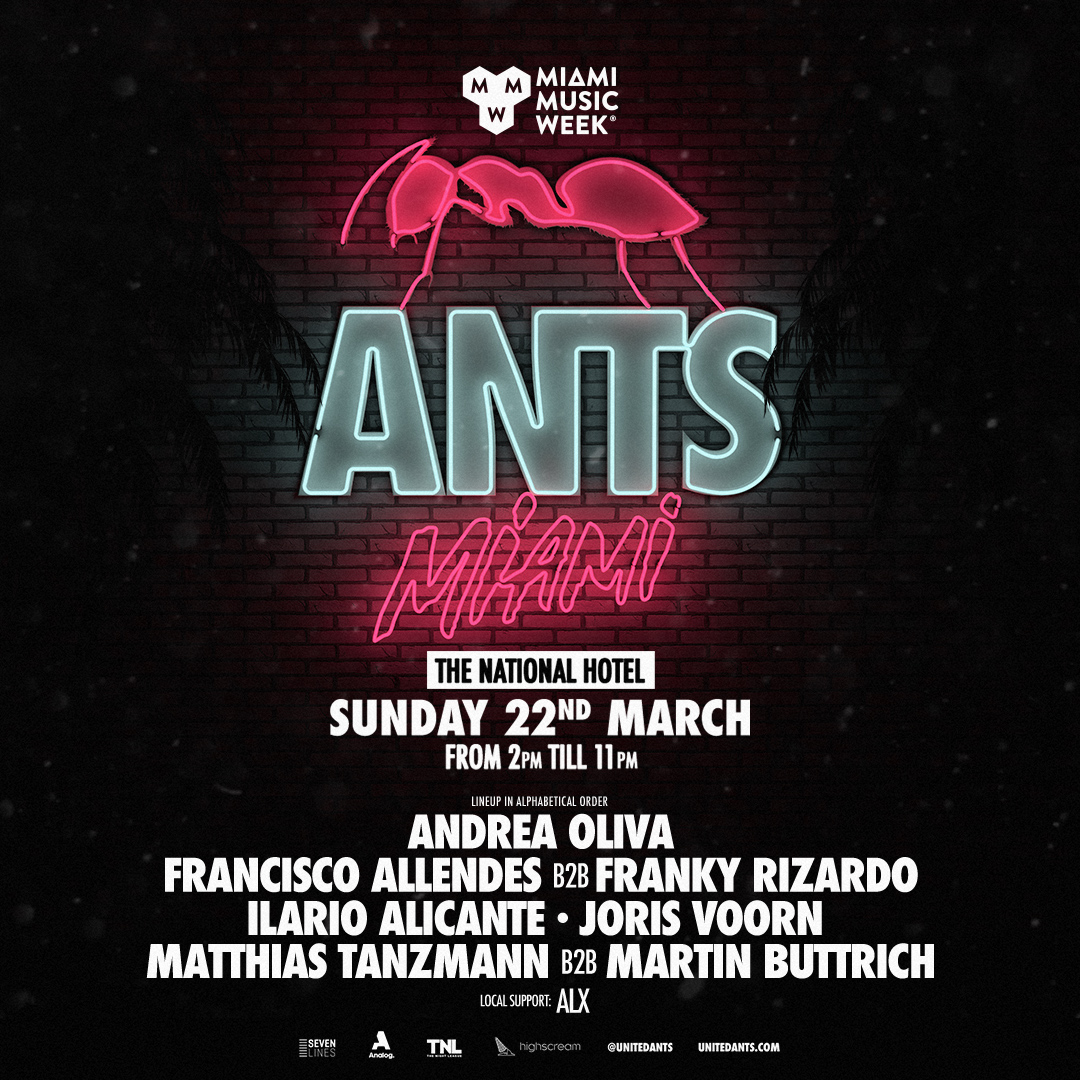 Spinnin' Deep
Spinnin music catalog has changed and evolved, with the growth of Techno and House music in America. Spinnin Records has expanded its horizon to becoming more diverse, with headliners Amine Edge & Dance, Shaun Frank, and Moguai. These aren't your usual house DJ headliners but it doesn't mean you should judge a book by its cover. These acts will throw down and meet all your expectations, being hosted at the lovely Nautilus Hotel as well. This will be the perfect party to get that last-minute tan while still getting your groove on.
BPM Festival Miami
Last but certainly not least is BPM Festival taking over The Lawn at Island Gardens, this line up was curated for fans out there looking to dive right into the underground scene. Giving you House legends Danny Tenaglia, Ben Sterling and playing an exclusive just for this event Deep Dish! This Grammy Award-winning duo will grace the stage, taking you on a roller coaster ride of a lifetime. Underground dance music lovers will unite for this one and turn Miami upside down!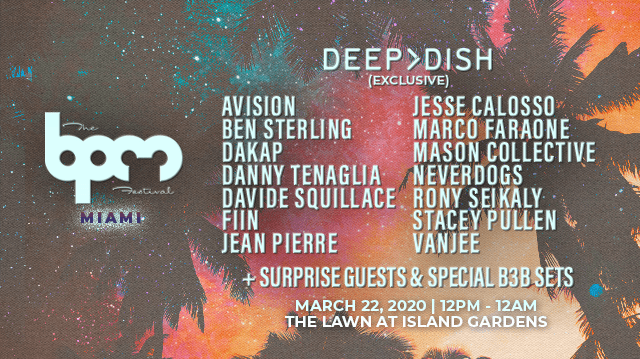 With quite the list above, this MMW will give all your house lovers what you need. You can find more parties on the Miami Music Week website and can expect last-minute shows to come up even the week leading into the event, we hope you enjoyed this list and have an amazing week in Miami! You only need to follow the House grooves to create your epic week!